2021 was a record-breaking year in the Montana land market.  High demand spilled over from 2020 when COVID-19 initially drove buyers to the Montana land market seeking refuge from the pandemic.  Then additional factors such as political and social unrest in other states, as well as massive wildfires and a sudden ability for workers to work remotely added to dramatic increases in demand.  Many buyers reported that these events were "tipping points," causing them to act on what they had been dreaming of for some time; moving to Montana.
In the large "legacy" ranch market, the record for the highest price ever paid for a ranch in Montana was broken not once, but twice.  First was the Climbing Arrow or CA Ranch near Bozeman selling for approximately $135 million dollars, and second was the Beaverhead Matador Ranch near Dillon selling reportedly for over $200 million dollars.  For high net worth individuals capable of purchasing such assets, perceived financial risks and vulnerabilities led to interest in tangible assets, such as land, during times of economic and social uncertainty.
The exceptionally high demand led to an extraordinary volume of sales, and increased sale prices.  The Montana land market had had a large backlog of inventory going into 2021. Many sellers have unrealistic expectations of value, and as a result, many properties sit on the market for years.  The extreme high demand in 2021 cleared out much of that inventory, and as a result the median days on market decreased dramatically.  Going into 2022, the available inventory of land for sale in Montana is at an all time low.

For over twenty years, the annual For Lands Sake presentation has been the premier Montana land values event, where the state's top land appraisers share their market data for the benefit of rural real estate industry professionals.  Started by Clark Wheeler of Norman C Wheeler & Associates, this year's event also included presentations Andrew Rahn of Montana Land Source, and Wade McAlpine and Christine Murphy from Northwest Farm Credit Services, Tom Kingsbury from Part & Parcel, and Mike McDonnell from Norman C. Wheeler & Associates.  The meeting is always highly attended, as it is the best opportunity of the year to learn in depth about rural Montana land values and trends.
0:00 Introductions
4:13 Clark Wheeler (Information introduction)
8:05 Andy Rahn (Montana Land Source)
28:13 Mike McDonnell (Overview)
41:34 Christine Murphy (Eastern MT)
57:32 Wade McAlpine (North Central MT)
1:13:15 Mike McDonnell (Western MT)
1:26:39 Tom Kingsbury (Part & Parcel)
1:41:34 Clark Wheeler (New Ranch Order)
Below is a PDF of Andrew Rahn's presentation from Montana Land Source data: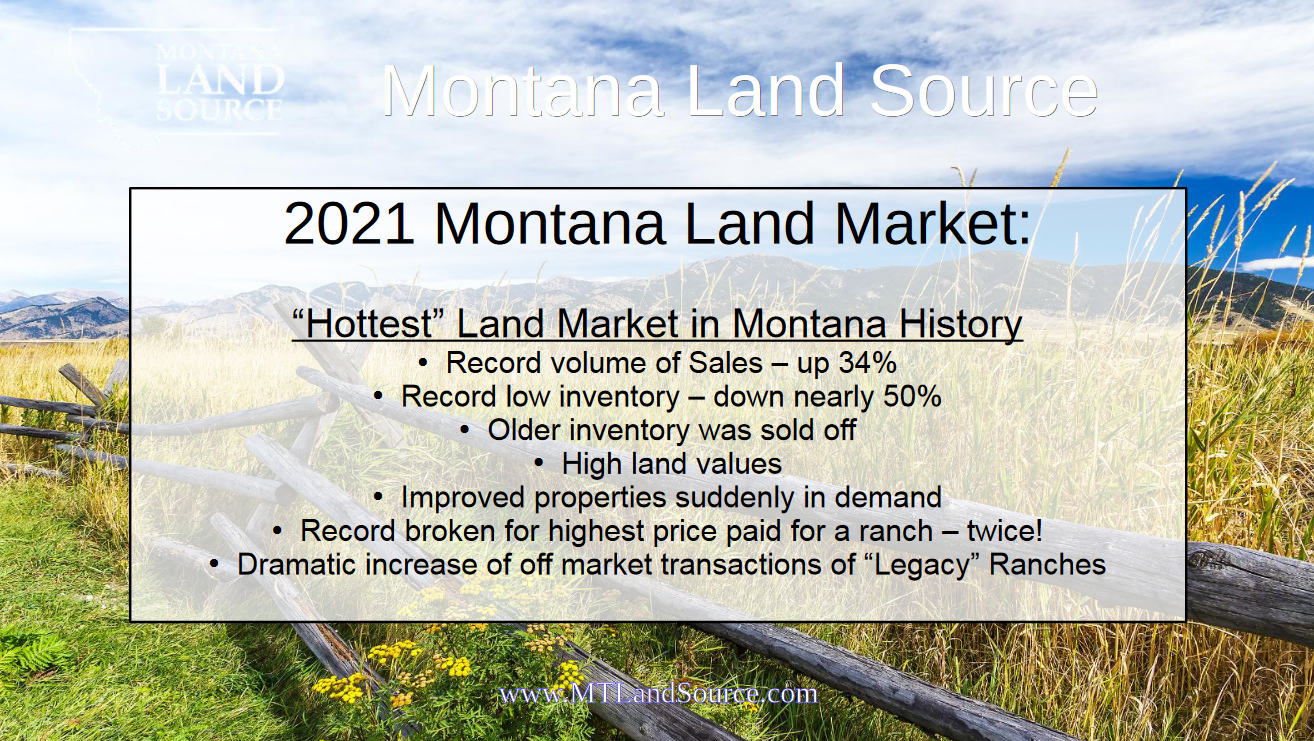 The presentation was part of the 2nd Annual Winter Real Estate Roundup, which is a collaboration between Montana rural land appraisers and land brokers to provide a high-quality education and networking seminar for Montana's top rural real estate industry professionals.  The three-day event was held February 8 - 10, 2022 in Bozeman, and was a resounding success.  The event was jointly organized by the Montana Chapter of the American Society of Farm Managers and Rural Appraisers (ASFMRA) and the Montana Farm & Ranch Brokers Association.