Published on December 9th, 2021
Upcoming Event(s):
Tuesday, February 8, 2022 - 12:00am

to

Thursday, February 10, 2022 - 12:00am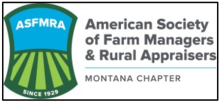 COVID Update - There has been many concerns expressed about COVID, and questions about whether this event will be available to attend online.  Unfortunately, it is too late for continuing education credits (CE) to be approved by the state for online participation, so the event will not be available online.
Registration is available, click here.
Montana's premier annual rural real estate event, for top area real estate industry professionals.
The 2nd Annual Winter Real Estate Roundup is a three-day education and networking event held in Bozeman at the Best Western Plus - GranTree Inn.  This event combines the annual Presentation on Montana Land Market Values, Statistics & Trends hosted by the Montana Farm & Ranch Brokers Association with the annual continuing education event for rural appraisers presented by the Montana Chapter of the American Society of Farm Managers and Rural Appraisers (ASFMRA). 
The event will provide 12 hours of continuing education credits for real estate brokers and agents, and 19 hours of continuing education credits for appraisers.
---
2nd Annual Winter Real Estate Roundup Schedule:
Tuesday February 8:
10:00am-12:00pm

For Land's Sake - Montana Land Values Presentation

Featuring Appraisers from Norman C Wheeler & Associates, Montana Land Source, and Northwest Farm Credit Services.

There will be two (2) hours of CE available for appraisal and real estate

12:00pm-1:00pm

Lunch

1:00pm-3:00pm

Back to the Earth: Current State of Section 1031 Exchanges - Max Hansen

There will be two (2) hours of CE available for appraisal and real estate

3:00pm-5:00pm

Tax Issues in Estate Appraisals and IRS Cases - Joel Silverman

There will be two (2) hours of CE available for appraisal and real estate

5:30pm

Networking Social
---
Wednesday February 9:
8:00am-4:30pm

Valuation of Lifestyle and Trophy Properties

Eight (8) hours of CE available for appraisal and real estate

12:00pm-1:00pm

Lunch

5:00pm-6:00pm

MT ASFMRA Chapter Meeting

7:00pm-9:00pm

Dinner
---
Thursday February 10:
8:00am-4:00pm

7‐Hour National Uniform Standards of Professional Appraisal Practice (USPAP) Course

Seven (7) hours of CE available for appraisal
---