Published on September 15th, 2021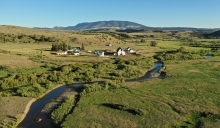 The highest priced ranch to ever be listed in Montana has sold.  The Climbing Arrow Ranch totals 79,582 acres, with 73,180 acres being deeded, and was listed for $136,250,000.
The Climbing Arrow is a unique property in the Montana land market, given it's agricultural production, fishing waters on the Madison River and Sixteenmile Creek, elk hunting in the Big Belt Mountains, and its proximity to Bozeman, the state's fastest growing community.  
Mike Swan, owner and managing broker of Swan Land Company, represented the seller, and Bryce Connery of Premier Land Company represented the buyer.  The buyer and terms of the sale were not disclosed.
Both the seller's and buyer's agents report that demand for the ranch was strong, and that there were additional buyers ready to purchase the ranch if the successful buyers backed out.  This is an indication of the quality of the ranch and the incredibly strong land market we are experiencing, as with ranches of this size and price there are often very few potential buyers.
The ranch was listed in April of 2021, and sold in approximately 140 days.