Published on December 9th, 2021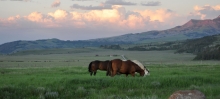 The largest and highest price ranch in Montana history has sold, breaking the previous record set by the sale of the Climbing Arrow Ranch in September of this year.
The Matador - Beaverhead Ranch totals 113,000 deeded acres with approximately 226,000 leased public land acres for a total operational boundary of 340,000 acres.  The seller, Koch Industries, was represented by Joel Leadbetter with Hall & Hall and Chance Burnell of Beaverhead Home & Ranch.  The buyer is media mogul Rupert Murdoch who was represented by Hall & Hall as well.
The ranch reportedly sold for about $200,000,000.