Published on May 28th, 2020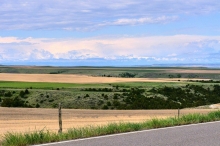 Land values in the rural west, especially in beautiful amenity-rich states like Montana, have been appreciating dramatically over many decades. Where the economic basis for land value used to be the income potential from farming or ranching, it is now based largely on recreational pursuits, aesthetics, development and investment potential. Land values have risen to the point that the purchase of land can't reasonably be justified alone by the income potential from farming or ranching. However, land has proven to be a worthwhile investment in and of itself, and land investment has become a desirable asset class to investors. This creates dual financial entities on properties that are utilized for farming or ranching; the agricultural business and the land investment.
Jim Taylor is a founding director of Hall and Hall, and has been in the land real estate business for almost 50 years. He recently published a blog post titled "Absentee Landowners Impact on the Ranching Community," where he outlines this phenomenon. Jim makes the point, "Essentially, there are two very distinct businesses that take place on a ranch: the livestock business and the land-ownership business."

As Jim states, this has been evolving naturally for many years. However, this distinction can at times be lost on agricultural producers as well as on land investors. This was one of the premises of the presentation titled "Better Understanding of Land Values" that Andy Rahn from Montana Land Source gave at the 2020 Winter Thaw Conference in Billings, Montana on February 22, 2020.
The operation of an agricultural business and the management of a land investment can be done in tandem to mutual benefit, but only if there is clarity and appreciation for the distinctions between the two enterprises. One is an active business with income and expenses, while the other is a long-term investment. One of the challenges is that while there are abundant sources of information and data on agricultural markets, there are very few sources of data and information on land markets and values, especially in non-disclosure states like Montana.
Typically, land is by far the largest value asset of a farm or ranch, and having an understanding of land value and the land market is essential for managing the land as a long-term investment. Land value impacts access to financing, estate planning and proper marketing at time of sale. Due to lack of information about land market values, many land owners overprice their land when they do put some or all of their land on the market, which often results in lengthy marketing times and painful pricing re-adjustments.
As the closest thing to an MLS (Multiple Listings Service) for Montana land, Montana Land Source provides invaluable data and information on the Montana land market for land professionals such as brokers and appraisers, as well as for ranchers and land investors. We take pride in providing a new level of information to the market which helps the land market function more efficiently and provides users with new tools for evaluating land values in Montana. This helps insure that agricultural production and land investment can be managed together for the long term sustainability of farming and ranching in Montana.