Published on February 17th, 2020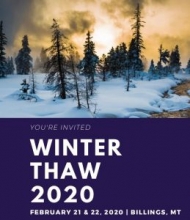 Andy Rahn from Montana Land Source will be a presenter at the 2020 Winter Thaw Conference in Billings, Montana on February 22, 2020 at the Northern Hotel.  Andy's presentation will be part of the Tips for Adding Profit to Your Ranch portion of the day-long event from 9:00 am to 10:00 am.  Andy's presentation is titled "Better Understanding of Land Values," and will focus on understanding land values in Montana, addressing common land value misperceptions, and maximizing land value assets. 
The Winter Thaw Conference will bring together land and agriculture industry leaders and experts for a full day of presentations and workshops.  The event is co-hosted by Montana Farmers Union, Montana Cattlewomen, Montana Agri-Women, Montana Women Involved in Farm Economics, and the United States Cattlemen's Association in conjunction with the Montana Agriculture Trade Exposition (MATE).
For full event agenda and registration, see the links below.