Published on October 2nd, 2019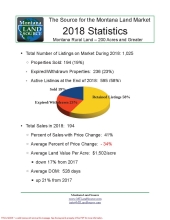 We often get requests at Montana Land Source for land market statistics and analysis.   We have a page on our website dedicated to land value trends and statistics - https://mtlandsource.com/montana-land-values-trends.  This page has links to the video and slideshow for the 20th Annual Presentation on Rural Montana Land Values & Trends, that took place in January 2019 in Bozeman, MT.
A Broker client recently inquired about a one-page Montana land market summary of 2018.  We put together this PDF summary of the 2018 Montana land market from Montana Land Source data.