Published on August 26th, 2019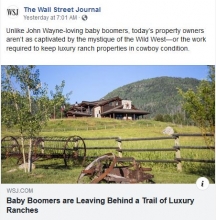 The demographics of land buyers are changing, as Baby Boomers age out and younger generations, with different values and lifestyles step into the marketplace. Historically, Montana land has been a good long-term investment, and ranch buyers could "play" cowboy while sitting on an appreciating asset. However, management of that asset can be a great deal of work and costly. While wealthy Baby Boomers have valued owning such properties, and even spending large sums improving them with high-end building projects, younger generations tend to value experiences and don't want to maintain or manage such complicated assets. Those high-end improvements tend to be over-improvements, and don't add as much value to the property as they cost.
The article quotes a Colorado broker who says there are more large trophy ranches on the market right now than he can recall in his nearly three decades in the business. We haven't seen this in Montana yet. However, we have seen the shift to more and more buyers being interested in conservation.