Published on April 30th, 2020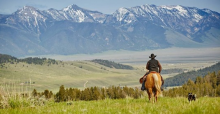 The Wall Street Journal has published an article on wealthy city dwellers who have been seeking refuge from coronavirus on remote western resorts and ranches.  The article focused primary on individuals who owned property in resorts and shared-amenity ranch communities prior to the pandemic, who have sought refuge on their remote properties during the crisis.
There has been concern, with some collaborating evidence, that communities with high levels of second homes and vacation rentals are seeing the highest levels of infections in rural areas due to individuals coming in from outside infection hot-spots.  Beyond concerns over increasing rates of infection, there is hope within the real estate industry that the desire of wealthy out-of-staters to seek refuge from coronavirus, as well as other social ills, will help stimulate the rural land market.  General economic decline and uncertainty due to the virus has the potential to negatively impact the Montana land market, like most industries, but this may be offset by buyers seeking tangible investments that have the additional benefit of providing social distancing.
The land market moves slow relative to other markets, and it will take time to know how impacted the market ultimately will be by coronavirus.  Montana Land Source collects the most comprehensive data on Montana land listings and sales, and will be monitoring and reporting on impacts to the Montana land market.