Published on January 17th, 2023
Upcoming Event(s):
Thursday, February 2, 2023 -

8:30am

to

9:30am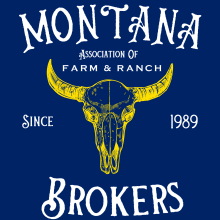 Once monthly, usually the first Thursday of each month, the Montana Farm & Ranch Brokers meet to network, hear presentations on topics relative to the rural Montana land market, and to share their new listings as well as to discuss properties they are looking for on behalf of buyers.  The group is made up of land brokers, agents, and other rural real estate professionals.  Non-members are welcome to attend.
At this month's presentor will be Deborah Stephenson from DMS Natural Resources. DMS is an advisory firm specializing in water right management, water right technical services, water valuation, water investment advisory, and water transaction services. Mrs. Stephenson manages large water right portfolios across the Western United States for which she provides water right database and inventory management, historical research and document interpretation, GIS mapping and aerial photo interpretation, change application and permitting services, adjudication support, due diligence in property transactions, and expert witness support in water right law suits.
Mrs. Stephenson helps clients navigate the entire water right transactional process. An in-depth technical understanding of water rights combined with a business and economics background makes Mrs. Stephenson one of the country's leading experts in water valuation and water investment advisory. Mrs. Stephenson maintains detailed water market transaction data and performs water valuations based on multiple valuation techniques. Lastly, Mrs. Stephenson advises investors in making decisions regarding water related investments.
Meeting Location:  Billings Association of Realtors office at 2021 Overland Avenue in Billings, MT 59102.
The meeting is also available to attend on Zoom, for remote access.  Contact one of the Officers below for Zoom access.
Join the Montana Farm & Ranch Brokers Association
Our membership dues are only $25 per year, with the fees going to supporting the costs of the organization.
Download a Membership Sign-Up Form.
For more information:  contact any of our officers: