Published on April 12th, 2022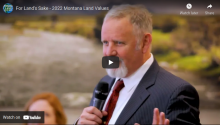 The video of the 2022 For Land's Sake presentation, which took place in February 8, 2022 in Bozeman, Montana is now available.
The video can be seen on the Montana Land Source 2021 land values page: https://mtlandsource.com/2021-montana-land-market-values
     or...
The video can be seen directly on YouTube: https://youtu.be/RZa9vP0ZiGk
For over twenty years, the annual For Land's Sake presentation has been the premier Montana land values event, where the state's top land appraisers share their market data for the benefit of rural real estate industry professionals. Started by Clark Wheeler of Norman C Wheeler & Associates, this year's event also included presentations Andrew Rahn of Montana Land Source, and Wade McAlpine and Christine Murphy from Northwest Farm Credit Services, Tom Kingsbury from Part & Parcel, and Mike McDonnell from Norman C. Wheeler & Associates.
The meeting is always highly attended, as it is the best opportunity of the year to learn in depth about rural Montana land values and trends.