Published on May 12th, 2021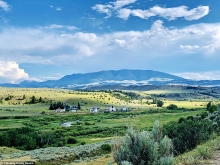 The Climbing Arrow Ranch, the largest and highest priced property on the Montana land market, is under contract less than one week after it was publicly listed.  Listed for $136,250,000 and totaling over 73,000 deeded acres, the ranch reportedly is under contract for close to the asking price, which is likely given how soon it went under contract.  Also, there apparently was multiple interested buyers and offers.  The ranch is listed by Swan Land Company out of Bozeman.
The ranch has gotten attention in the media as the "River Runs Through It" ranch, because portions of the 1992 Robert Redford movie was filmed on the ranch.  Periods of high demand in the the Montana land market can be defined by the releases of block-buster film productions like "A River Runs Through It," "The Horse Whisperer," in 1998 and now Kevin Costner's "Yellowstone." 
News of this transaction is likely to fuel the already high demand in the Montana land market, as potential land buyers see that there is more demand than supply.  This week in the Montana Land Report, there are over five times as many properties going under contract or selling than there are new listings coming into the market.