Published on March 7th, 2022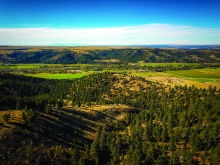 The 12,350-acre Beartooth Ranch, formerly owned by actor Mel Gibson, is located south of Columbus, Montana and is the second large Montana ranch transaction to take place in 2022.  Under the ownership of Mel Gibson, the ranch was a large purebred Angus operation.  Reportedly sold on a hand shake in 2005 to neighbor Kent Williams, founder of Montana Silversmiths, the ranch since has been developed as a horse boarding and riding operation.
The list price for the ranch was just shy of $30 million dollars at $29,800,000, and sale price is confidential.  The property was on the market for 823 days, or 2 1/4 years.  Randy Shelton from Hall & Hall was the listing broker, and Landon Phillips from Phillips Realty in Lewistown had the buyer.  According to Landon, the buyer was looking primarily for a family friendly ranch with easy access to town and an airport, and the Beartooth Ranch fit that criteria well.
The ranch has multiple small private inholdings along the Stillwater River as well as two adjoining public fishing access sites.  These factors negatively impacted the privacy and exclusivity of the ranch, which is what many buyers at the $30 million dollar range are looking for, and likely impacted the time it took the ranch to sell.  The ranch was listed in late 2019.
About 3,700 acres in the southeast portion of the ranch has a conservation easement with the Montana Land Reliance which limits development.  The easement doesn't have much impact on the value of the ranch, as the southeast portion is remote and would not be developable as its highest and best use.