Published on January 8th, 2020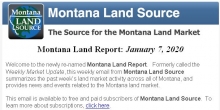 Every Wednesday, Montana Land Source puts out an email that lists all the new land listings, pendings, sales and price changes across all of Montana as well as news and events relevant to the Montana land market.  The email is available to our free and paid subscribers, with over 4,700 recipients receiving the email each week.  For years the email has been called the Weekly Market Update.  We have re-named the email to The Montana Land Report, which we feel is a more descriptive title, and also better reflects the quality of the content.  New design and functionality changes are coming to the emails, as well as to the Montana Land Source website.
The Montana Land Report is available to free and paid subscribers of Montana Land Source.  To learn more about subscriptions, click here.