Published on August 8th, 2023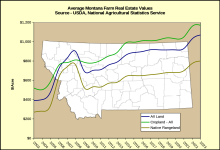 The U.S Department of Agriculture (USDA) National Agricultural Statistics Service has released it's 2023 Summary of Land Values.  The data is based on USDA surveys of land owners and managers, and not actual land transaction data.  Also, the survey focuses on agricultural production lands, and does not include recreational lands which are a significant portion of the Montana land market.  Therefore, the per acre values are lower than the true average land values of all land sales in Montana.
None the less, the survey data does provide insights on Montana land market trends.  The data usually lags the actual land market.  For example, the survey data shows very little increase from 2014 to 2021, when in reality, land values in Montana started increasing substantially in 2020.
Displaying the data back to the early 2000's shows the dramatic increase leading up to the 2008 crash, and the subsequent land value drop, especially for non-croplands, and the slow but steady recovery.
According to this survey data, overall the 2023 Montana average farmland real estate value, a measurement of the value of all land and buildings on farms, increased in 2023.  The average value of all land types, irrigated and non-irrigated cropland and native rangeland, was up about 4% from 2022 according to the USDA data.  However, actual land transaction data from Montana Land Source shows that median land values between August of 2022 and August of 2023 have decreased 6%. This is median data across the entire state, and does not apply to all land types and areas.
The Montana land market has been in a correction or adjustment period since 2022, with a dramatic reduction in supply and in transaction volume, as well as decreases in median listing prices. Inventory is slowly rebuilding, and it is yet to be seen whether sales volume will increase and whether the correction period will extend into 2024.
To see live Montana land market statistics go to our Montana Land Market Statistics page at https://mtlandsource.com/montana-land-market-statistics.
Below is a chart summarizing the USDA data for Montana since 2003.