Published on September 16th, 2019
Upcoming Event(s):
Wednesday, October 23, 2019 - 11:00am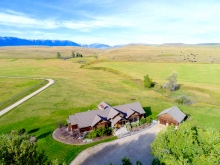 UPDATE - property is under contract: https://mtlandsource.com/news/silver-spur-ranch-auction-update
Albert Burney will be auctioning the Silver Spur Ranch, 738± acres just north of Red Lodge Montana with 129± acres of irrigated land. The property consists of a 5,600 sq ft custom built lodge with a detached two car garage, a ranch hand's house, a bunkhouse for overflow guests, equipment sheds, cattle pens, hayfields, and a six-stall center aisle barn with paddocks, wash station, tack and feed rooms, and a five car attached garage.
This property is listed by Montana Realty Company of Red Lodge, as 299 May Grade Road.
Auction will take place October 23rd at 11:00 AM, at 299 May Grade Road, Red Lodge, Montana.