Published on August 29th, 2022
Upcoming Event(s):
Thursday, September 8, 2022 - 4:00pm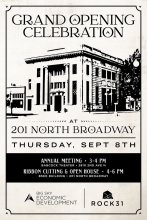 Andy Rahn is proud to announce that the Montana Land Source office will be moving into the new Rock31: Business Incubator, Accelerator, and Co-working Space in downtown Billings.  Located in the newly remodeled historic Montana National Bank building in the heart of downtown Billings, the Rock31 building is an exciting development promoting entrepreneurship and start-ups, and is a perfect location for Montana Land Source.  Andy has been an active member of Rock31 since moving back to Billings, and is honored to have been asked to be an anchor business in the new building.
Please come celebrate the Grand Opening of the Rock31 and Big Sky Economic Development building on Thursday, September 8, 2022, at 201 North Broadway at 4:00 -6:00 pm, and see the new Montana Land Source office.
Drinks and appetizers will be provided, and BSED/Rock31 team members will be in attendance to provide tours of the newly renovated building.