Published on October 21st, 2020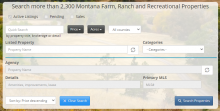 New property search functionality has been added to Montana Land Source.  Montana Land Source is the most complete and comprehensive source available for large-acreage land listings and sales for Montana farm, ranch and recreational properties.  We track all available sources, and update the data daily.
There is a new basic search window at the top of the homepage at www.MTLandSource.com, and a more detailed property search on our Search page at www.MTLandSource.com/property_search.
Available property search criteria includes:
Active listings, pending sales, sold properties
Property title
Brokerage name
Property details
Price range
Acres range
Counties
Categories, such as:

Access Restricted
Burned
Conservation Easement Partial
Conservation Easement Property
Fractional Interest
Indian Reservation
Public Land Inholding
Public land boundaries
Restricted Property
River property

MLS #
Public users and Free Subscribers have partial access to search criteria and property information, while Market Expert Subscribers have full access to all search criteria and all property information.
Property searching is also available from within our map app at www.MTLandSource.com/internal/mt-land-source.