Published on March 1st, 2023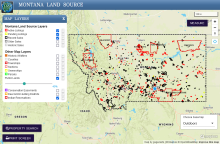 Montana Land Source will be releasing a new map application, and replacing the original map app, on March 2nd, 2023.  We have strived to keep all the important functionality of the original map, while adding some new exciting features and layers.
The biggest changes in the new map are:
Multiple Sales layers:

Recent Sales (<2 years)
Older Sales (3-5 years)
Historic Sales (5-12 years)

New Ownership layer - showing full property ownership boundaries (parcels merged by name)
New Historic Wildfires layer
GPS location on map
Reach out to Andy if you have any questions about the new map!
Thank you!