Published on November 17th, 2022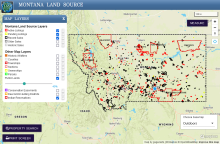 Montana Land Source has been developing a new map application, with some great new improvements.  We have strived to keep all the important functionality of the original map, while adding some new exciting features and layers.
A beta version of the new map is now available for Market Expert Subscribers to test, before the original map is replaced.
The biggest changes in the new map are:
Multiple Sales layers:

Recent Sales (<2 years)
Older Sales (3-5 years)
Historic Sales (5-12 years)

New Ownership layer - showing full property ownership boundaries (parcels merged by name)
New Historic Wildfires layer
GPS location on map
Please demo test the new map, and let us know what you think.  Also let us know if there are any bugs or issues that need fixing.
Thank you!