Published on September 15th, 2021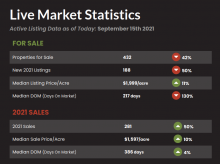 Montana Land Source has released new land market statistics at https://mtlandsource.com.  These statistics are live and updated continually as new land market information is obtained.  We indicate the percent change over the past two years, giving a clear real-time picture of trends in the Montana land market.
Statistics include:
Number of properties on the market
Median listing $/acre
Median DOM (Days on Market)
Number of sales
Median sale $/acre
and more...
Montana Land Source is the first and only company to publish live and dynamic Montana land market statistics.