Published on May 22nd, 2020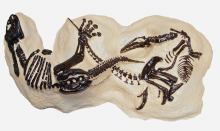 The Montana Supreme Court on Wednesday ruled that dinosaur fossils are surface rights and not minerals according to state law.  The issue arose when dinosaur fossils dubbed the "Dueling Dinosaurs" were discovered on a Montana ranch, and have turned out to be worth millions of dollars.  The mineral estate owners have sued the surface estate owners claiming ownership rights to the fossils.
The case will now go back to the 9th Circuit for a re-hearing.  In 2019 the Montana legislature passed a bill unanimously stating that dinosaur bones are not considered minerals, however this case predates that legislation.
The concern for property owners is that owners of sub-surface or mineral rights, which is the dominant estate in Montana, could exercise those rights and disrupt surface use and property value.  This means that mineral right owners could excavate for fossils, or be entitled to the value of any fossils discovered on land in Montana.  Dinosaur fossils are abundant in parts of Montana, and the designation of fossils as mineral or surface rights could have significant impact on property rights.