Published on November 7th, 2019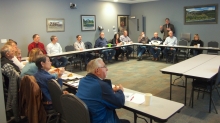 The November 2019 Billings Farm & Ranch Brokers meeting was well attended, with Andy Rahn from Montana Land Source giving a presentation on Montana land market values and trends, focusing on eastern Montana.  In addition to the presentation, there was an open discussion on the land market from the group that included brokers and appraisers.
In general, the consensus is that the market is stable, with slight value growth.  There was discussion of property pricing, and whether there will be an increase of listings at the end of the year due to low ag commodity prices and ag markets being distressed.