Published on October 24th, 2023
Upcoming Event(s):
Monday, December 4, 2023 - 2:00pm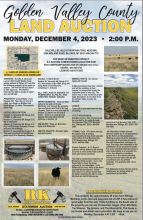 SOLD - see sale information here: https://mtlandsource.com/news/golden-valley-county-land-auction-sells
GOLDEN VALLEY COUNTY LAND AUCTION
+/-1625.23 DEEDED ACRES OF WHICH +/=1520.45 IS FARMLAND
MONDAY, DECEMBER 4, 2023 2:00 P.M.
SALE WILL BE HELD AT Montana Trail Head Inn, 5500 Midland Road, Billings, MT 59101 406-248-7701
FOR MORE INFORMATION CONTACT:
R-K Auction Company www.r-kauction.com
Rick Kniepkamp – (406) 485-2548 or (406) 939-1632 cell
Darrel – 406-366-5742
Leonard – 406-979-5860
OWNERS: Dorothy E Dick & Leonard Dick Credit Shelter Trust, whose address is Richey, MT will offer the following property to the public at auction. The final bid will be subject to their approval. The Owners reserves the right to accept or reject any, and all bids.
PROPERTY LOCATION: From Ryegate, MT- Take Hwy 12 E for 2.2 miles, turn South on Buffalo Trail Road and go 3.3 miles. The property starts here.