Published on September 27th, 2016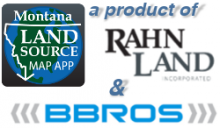 Andy Rahn will be giving a free training on the newly re-branded Montana Land Source map app at the monthly Billings Farm & Ranch Brokers meeting.  The meeting is scheduled for 8:30 am, Thursday, October 6 in the Madison Room at the Radisson Hotel (formerly the Holiday Inn), Billings, MT.
Andy will focus on the new features available in the new release of the Rahn Land Map Viewer.  The training will take place at the end of the regular meeting.