Published on May 2nd, 2023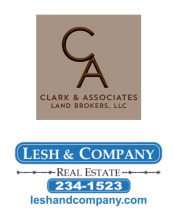 The Finger Buttes Ranch was successfully sold at auction, on May 1st, 2023. Attendance at the the action was good, the room at the Moose Lodge in Belle Fourche, SD was mostly full. Mark McNamee from Clark & Associates Land Brokers was the auctioneer.
The bidding started slow initially, but picked up as the auction proceeded. The ranch was offered as a whole and also as two separate smaller tracks. The western tract is primarily open grass, while the eastern tract has multiple building improvements and significant acreage of cropland. The bidders appeared to value the grass higher, as the grassland portion sold ultimately at $800/acre, while the east parcel sold for $650/acre. The overall sale price on the ranch was $5,369,400.
The ranch totals 7,715 deeded acres and includes 600 acres of State lease and 1,886 acres of BLM lease, and was listed jointly by Clark & Associates Land Brokers and Lesh & Company Real Estate.