Published on September 1st, 2020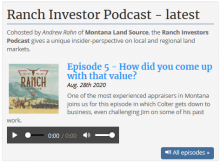 Episode #5 of the Ranch Investors podcast has been released, and is titled "How did you come up with that value?"  This episode features Montana Certified General Appraiser Jim French.
Some of the topics we discuss in this episode include:
Variances in appraisals
The ins and outs of different appraisal types and methodologies
Marketing times
Different definitions of value
Appraisal values versus listing values
Determining listing prices
Importance of highest and best use
Comparable sales selection
Regional influence on appraisal
Use of active listings in valuing property
Valuing property components versus the whole
Real estate versus business value
The value of hunting leases
Range of values versus specific value conclusions
Thank you Jim for sharing your expertise!