Published on April 16th, 2021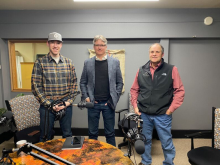 The 4th episode of Season 2 of the Ranch Investor podcast has been released, and is titled "Do I really need a professional ranch manager?" 
With over 30 years of experience as a Farm and Ranch Manager with Hall & Hall, Jerome Chvilicek has professionally administered some of the largest and most diverse farms and ranches in the US. Hear what actually goes in to being a professional farm/ranch manager and why this should be deemed as an investment or an asset, rather than an expense.
Many ranch investors believe this position is superfluous or redundancy, however, if your goal is ROI, wouldn't you consider your investment in a professional farm/ranch manager as a way to reduce risk, cut costs, and improve yield as well as asset appreciation if they are providing 3X the annualized economic value to what they cost?
If you are questioning the value of professional ranch management, start with the best and hear it directly from the horse's mouth here.