Published on December 2nd, 2020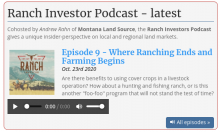 Episode #11 of the Ranch Investors podcast has been released, and is titled "Ranch Investing. Can't lose?!" 
Free government money in farming and ranching!? Ranch investing must be a "can't lose" proposition!!! Melissa "Missy" Wacker introduces us to government-subsidized insurance programs, as well as government-subsidized improvements that have proven to benefit landowners. Can you bank on this income and capital improvements? Find out now.