Published on February 22nd, 2022
Upcoming Event(s):
Thursday, May 19, 2022 (All day)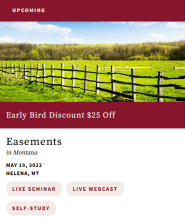 The Seminar Group is holding an seminar called Easements in Montana on May 19, 2022 in Helena, Montana.
"This program is designed to help a wide cross-section of professionals understand and engage with traditional and conservation easements at every step in the process, from initial tax, financial planning and drafting considerations, to navigating the playing field decades after the easement is put in place. Sessions will be taught by Montana's foremost experts in their respective fields. Whether you are seeking a broad overview to gain a working familiarity with this fast-growing area, or are a seasoned professional looking for specialized, cutting-edge content, you'll leave better prepared to assist your clients in the continually developing landscape of Montana easement law."