Published on January 30th, 2020
Upcoming Event(s):
Thursday, June 10, 2021 -

9:00am

to

5:00pm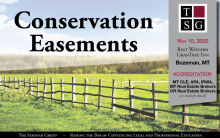 UPDATE - This seminar has been postponed until 2022.
The Seminar Group is putting on a seminar on conservation easements in Bozeman, MT.  The past forty years have seen significant public investment in conservation easements through the availability of federal income tax benefits, and a variety of local, state, and federal governmental programs now offer funding sources to further compensate landowners.   With no two easements exactly alike, a fast-evolving body of case law, and a variety of related disciplines involved, practitioners in the area face real challenges gaining and maintaining the necessary tools to advise clients on the benefits, risks, and opportunities presented by conservation easements.
This program is designed to help a wide cross-section of professionals understand and engage with conservation easements at every step in the process, from initial tax, financial planning and drafting considerations, to navigating the playing field decades after the easement is put in place.  Sessions will be taught by Montana's foremost experts in their respective fields.
Professional Continuing Education Credits Available:
MT CLE This course is pending with the Montana State Bar for a total of 6.0 CLE credits
MT Real Estate Brokers This course qualifies for Montana real estate broker continuing education in the amount of 6.0 CE credits
APA This course has been approved by the American Planning Association for 6.25 CM credits
IRWA This course may qualify for 6.25 CEUs through the International Right of Way Association