Published on April 9th, 2018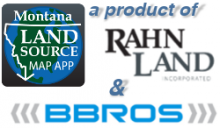 Andy Rahn has been asked to be on a panel at the upcoming 2018 Big Sky GeoCon, the annual state wide GIS conference in Helena on April 19, 2018.  The moderated panel is titled the "MSDI Cadastral Framework Panel Discussion," and will discuss the state wide Montana Spatial Data Infrastructure (MSDI) Cadastral Framework data which is maintained by the Montana State Library, consisting of tax parcels defined by the Montana Department of Revenue and City/County GIS Departments.  The participants on this panel represent the various players in the construction and maintenance of the Cadastral Framework.  There are representatives from the Montana Department of Revenue, the Bureau of Land Management, the Montana State Library, County Government, a Professional Land Surveyor, and Andy Rahn as the Accredited Rural Appraiser.
If you have questions about the cadastral data that you would like Andy to bring to the panel, feel free to contact Andy.
Here is a link for the event: https://2018bigskygeocon.sched.com/event/E5vO/msdi-cadastral-framework-panel-discussion