Published on October 28th, 2021
Upcoming Event(s):
Monday, December 6, 2021 - 10:00am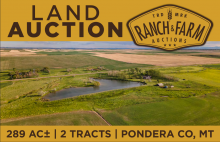 289 acres of irrigated farmland with a custom home & water shares located in Pondera County, Montana will by auctioned on December 6, 2021.  The property is listed by Whitetail Properties.
The auction will take place at Norley Hall, 701 South Wisconsin Street, Conrad, Montana.