Published on March 14th, 2023
Upcoming Event(s):
Tuesday, February 6, 2024 (All day)

to

Thursday, February 8, 2024 (All day)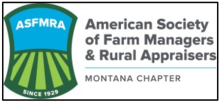 The Winter Real Estate Roundup is Montana's premier rural real estate education and networking event, with top real estate industry professionals gathering for networking, information and continuing education credits.
The event is put on by the Montana Chapter of the American Society of Farm Managers and Rural Appraisers (ASFMRA), and combines the annual For Land's Sake presentation on Montana land market values, statistics & trends with continuing education seminars for rural land brokers, agents and appraisers.
The three-day education and networking event held in Bozeman at the Best Western Plus - GranTree Inn. 
The event will provide continuing education credits for appraisers nd real estate brokers and agents in Montana, Wyoming and Idaho.
More information will be provided as the event schedule is determined.