Published on September 9th, 2019
Upcoming Event(s):
Tuesday, January 28, 2020 - 12:00am

to

Thursday, January 30, 2020 - 12:00am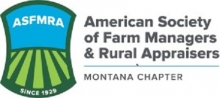 COME EARN CONTINUING EDUCATION CREDITS AND NETWORK WITH AREA REAL ESTATE PROFESSIONALS
The 1st Annual Winter Real Estate Roundup is a three-day education and networking event held in Bozeman.  For the first time, this event combines the annual Presentation on Montana Land Market Values, Statistics & Trends hosted by Southwest Montana Farm & Ranch Brokers with the annual continuing education event for rural appraisers presented by the Montana Chapter of the American Society of Farm Managers and Rural Appraisers (ASFMRA). 
The event will provide 12 hours of continuing education credits for real estate brokers and agents, and 19 hours of continuing education credits for appraisers.
---
1st Annual Winter Real Estate Roundup Schedule:
Tuesday January 28th:
10am-12pm

2019 Montana Land Values Presentation

Presented by the Southwestern Montana Farm & Ranch Brokers

There are two (2) hours of CE available for appraisal

Featuring Appraisers from Norman C Wheeler & Associates, Montana Land Source, and Northwest Farm Credit Services.

https://mtlandsource.com/news/annual-mt-land-values-trends-presentation.

12pm-1pm

Lunch

Sponsored by Northwest Farm Credit Services

1pm-5pm

MapRight / Water Valuation

Presented by the MT Chapter of the ASFMRA

There are four (4) hours of CE available for appraisal and real estate for this two-part seminar

MapRight - This portion of the seminar will demonstrate how to utilize MapRight to improve one's business and bottom line. Attendees will learn about the nuances of map making and how to exploit the use of MapRight maps in websites, print, and mobile for your company and your clients.

Water Valuation - This portion of the seminar will discuss current issues and trends in the realm of water right valuation. It is designed to help real estate professional to understand the value of water rights, both as an appurtenance to the land and as a severable property right.

5pm

Networking Social
---
Wednesday January 29th:
8am-5pm

Property Rights: Why Haven't I Heard This Before?

Presented by the MT Chapter of the ASFMRA

Eight (8) hours of CE available for appraisal and real estate

Properties have evolved over the years and it is rare to find a property that doesn't have restrictions on the title ranging from life estates, utility and access easements, cell tower sites, deed restrictions, mineral rights and more ‐ some of these encumbrances may or may not have an impact on value; however, to report "fee simple" is misstating the facts and could create an issue or liability.

12pm-1pm

Lunch

5:30pm-6:30pm

MT ASFMRA Chapter Meeting

7:00pm-9:00pm

Dinner
---
Thursday January 30th:
8am-4pm

7‐Hour National Uniform Standards of Professional Appraisal Practice (USPAP) Course

Presented by the MT Chapter of the ASFMRA

Seven (7) hours of CE available for appraisal
---